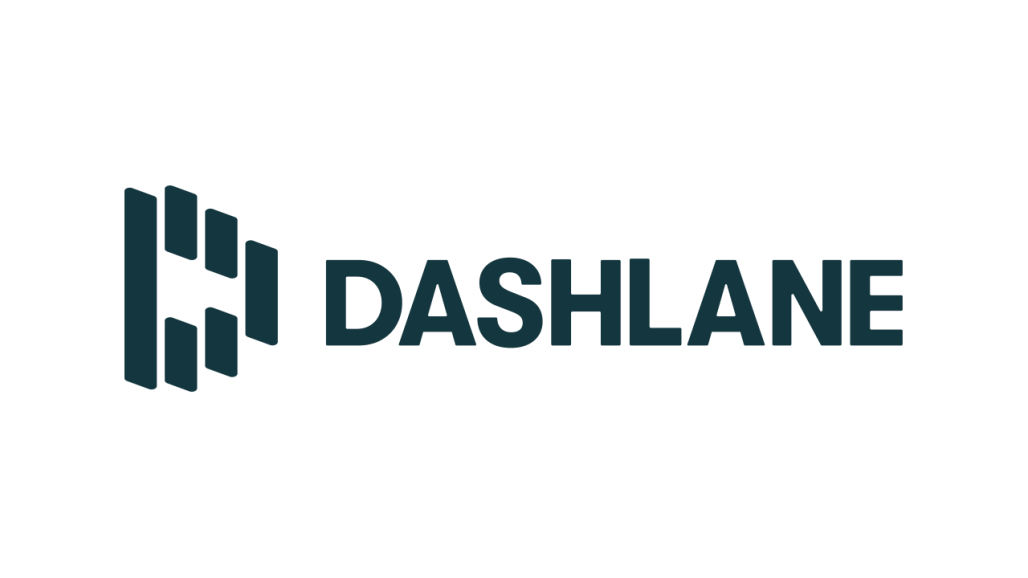 The best password manager.
You must be having different passwords for different websites and apps, and it is a difficult task to remember all those complex passwords and that is why we have a password manager that will remember all your passwords for you. And that's Dashlane Password Manager. 
And well, if you use the same password everywhere, then you should act quickly and install Dashlane before someone cracks your password.
Dashlane is one of the most popular password managers out there that syncs across all your devices, whether it is Windows, Mac, Android, or Ios.
To get started with Dashlane, you need to install the app, enter your e-mail, and create a strong Master Password. Dashlane then sends you a code to your e-mail address to verify your identity.
Remember, your Master Password should be very strong and unguessable because that's the only password you need to remember after you setup your Dashlane.
Dashlane gives you the option to import all the passwords that you might have stored in your browser or any other password manager.
Dashlane has a Vault, where you can save your Passwords, Secure Notes, Personal Info, Payments Info, and IDs.
Features of Dashlane Password Manager Vault: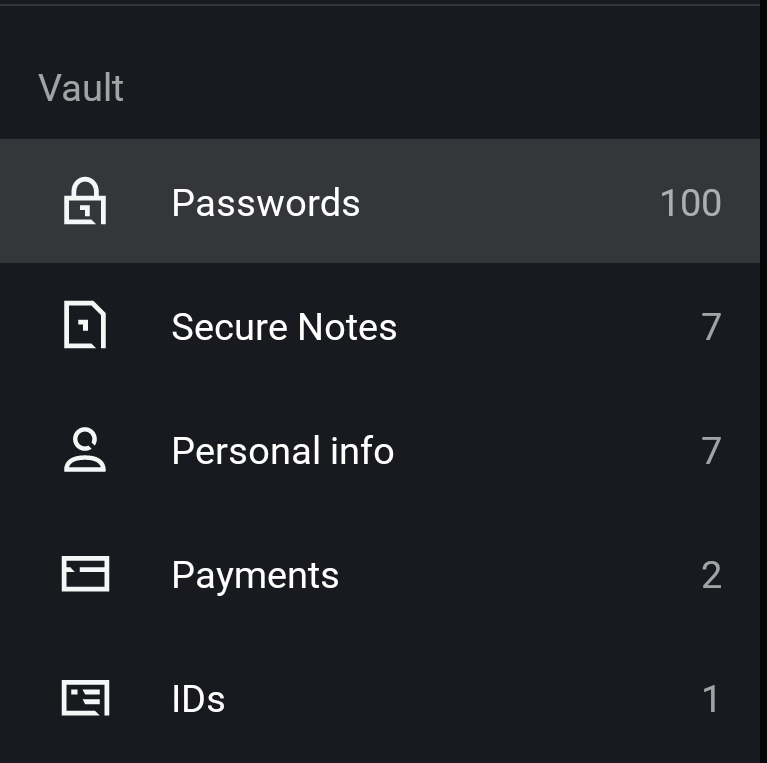 Dashlane stores your passwords across all your devices and Auto-fill them whenever required.
Along with passwords, Dashlane saves your personal information like Name, Address, E-mails, etc. which then prompts you to Auto-fill when you are filling any online form.
Dashlane saves your credit cards and gives you the option of Auto-fill for online payment through credit card.
Dashlane gives you 1 GB of storage space where you can save your important notes securely.
Dashlane Password Generator:
Dashlane has a very strong password generator where you can assign the length of the password. Also, you can choose whether to include digits or symbols in your generated password.
Dashlane Identity Dashboard: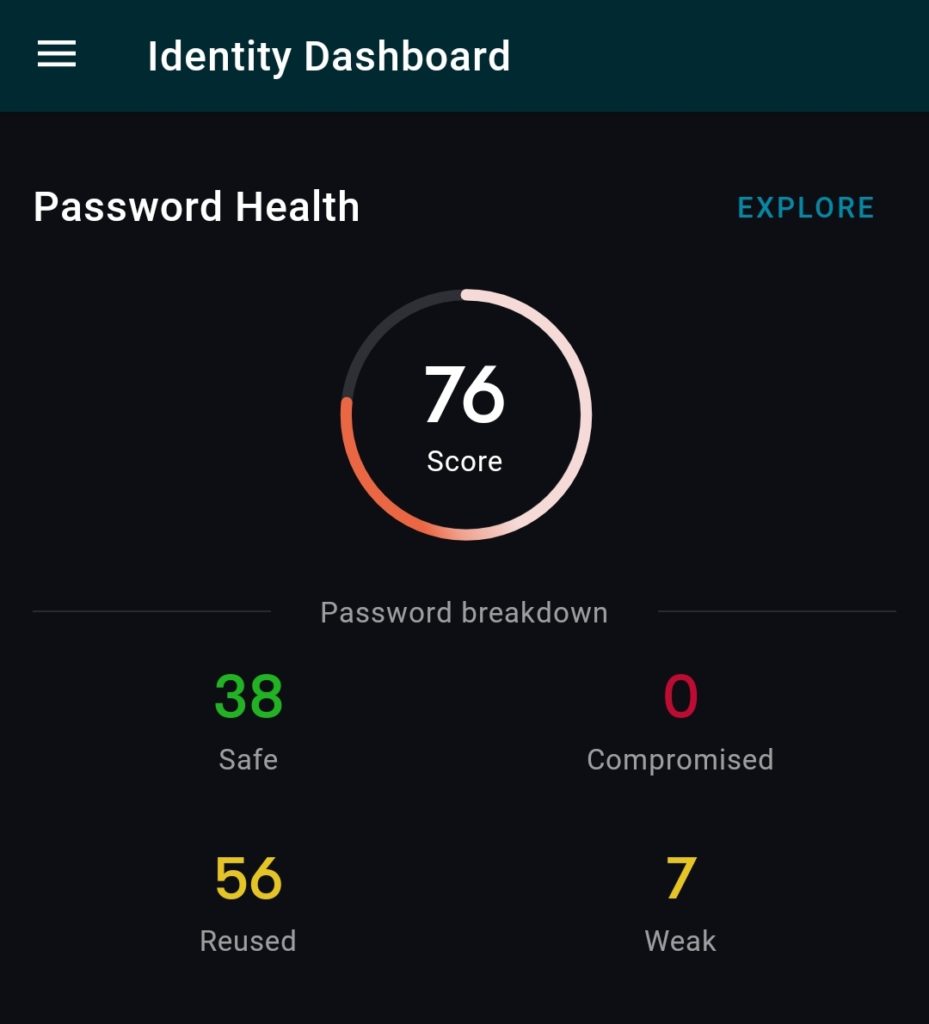 Identity Dashboard shows you the Password Health. Such as; Reused passwords, Weak passwords, and Compromised passwords and allows you to change those weak passwords. Also, Dashlane allows you to change your password automatically, with just one click, on certain websites.
VPN (Virtual Private Network):
Dashlane gives users access to a virtual private network (VPN). VPN reroutes your internet traffic through an encrypted, secure protocol.
Dashlane Security:
Dashlane doesn't save your Master Password on its server or anywhere else. Only you will be knowing it. And in case you forget, it cannot be recovered. But you can reset it through a mobile app that too only if you have enabled the "Master Password reset" option in security settings. In that case, you can reset it using your biometrics.
Dashlane uses 256-bit AES encryption.
If you want detailed information about Dashlane Security, you can get it here.
Dashlane Pricing: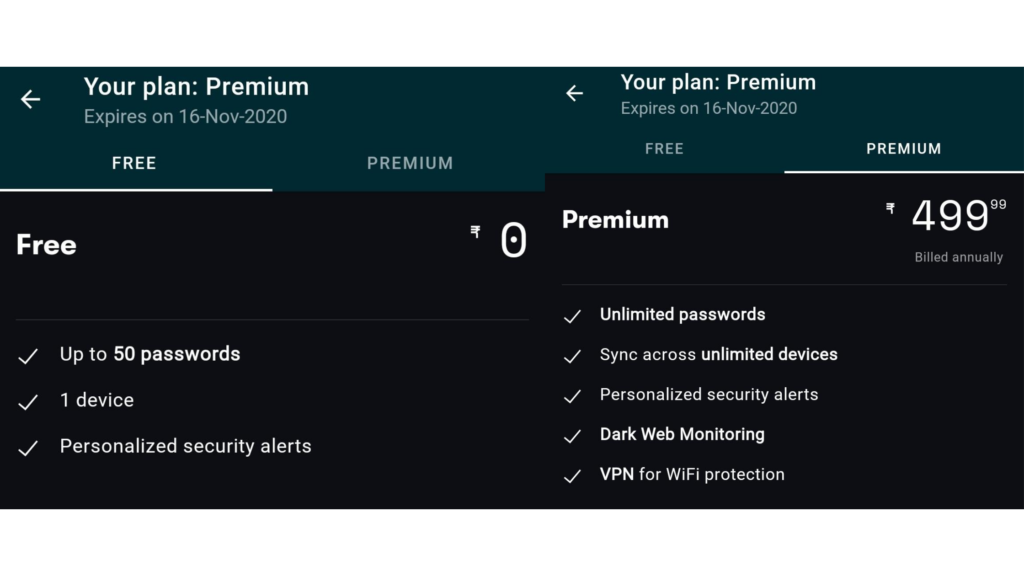 Dashlane has a free version that allows you to use it on a single device and you can save only 50 passwords inside it.
Premium version costs you Rs 499.99 per year which is a very affordable price for features it offers.
Final Words about Dashlane Password Manager
Dashlane is a very handy, capable, and secure Password Manager that not only manages your passwords but also comes with features like VPN and Password changer.
Tell us if you use Dashlane, and how you find it. Also, tell us if you use any other Password Manager and if it is better than Dashlane.